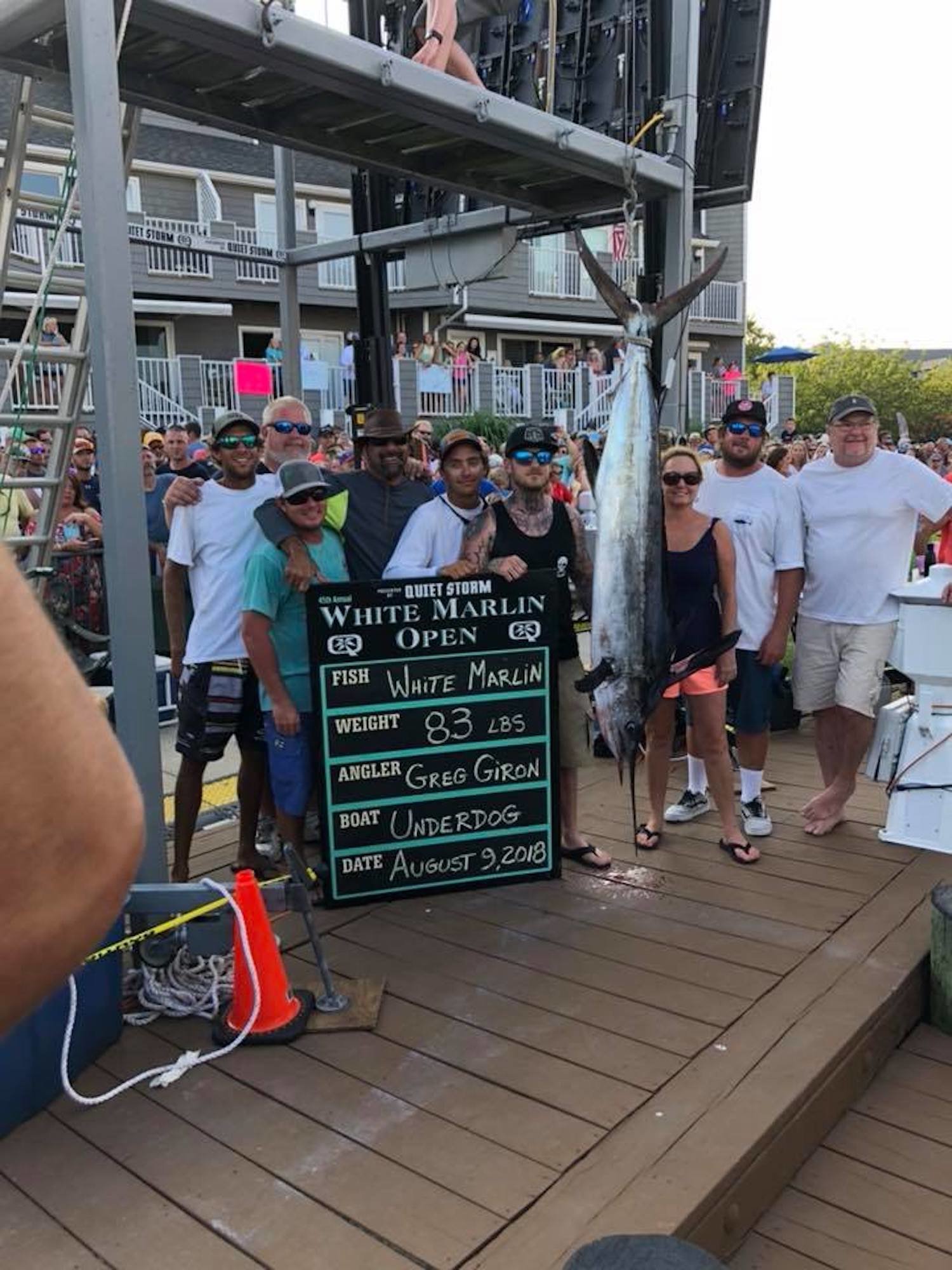 Posted on August 9th, 2018
I just returned from a busy 4th day of scales action for the 45th Annual White Marlin Open that saw 213 boats fishing.  When Andy Motsko opened the scales at 4 PM he said that, "Thursday is moving day" and he couldn't have been more right.  We saw several fish hit the dock today with some nice daily prizes cashed and we saw new leaders in the tuna and white marlin categories that swiped around $3.5 Million from the previous leaders.  Anything can still happen tomorrow and Friday is shaping up to be a terrific finish to the event with 335 boats left to fish.  We'll see if we have another big money fish come in on Friday like we did last year starting tomorrow at 3:30 PM where you can check it out live at www.whitemarlinopen.com.  This is what the leaderboard looks like after four days of fishing.
Wahoo
3rd Place     The Right Place     47 Lbs
2nd Place     Canyon Hunter     55 Lbs
1st Place     Desperado     58 Lbs
Dolphin
3rd Place     Moxie Boys     36 Lbs
2nd Place     Rigged Up     41 Lbs
Tuna
3rd Place     Brass Monkey     71 Lbs
2nd Place     Blinky IV     73.5 Lbs
1st Place     Buckshot     75.5 Lbs     $900,000
Blue Marlin
1st Place     Auspicious     881 Lbs     $1.4 Million
White Marlin 
2nd Place     Lights Out     75 Lbs     $130,000
1st Place     Underdog     83 Lbs     $2.6 Million
Fish in OC charter partner Instigator weighed a wahoo today at 43 pounds that will win about $17,000 worth of daily prize money.
Captain Monty Hawkins of the Morning Star reported some good flounder and a couple of sea bass from the ocean today.  Here's Patrick Thompson of Pasadena, MD who had the largest of the day., a 22.5 inch fluke – also pictured are Ken & Kim Smith of Mt. Wolf PA — Mya Sasseville Of Toronto, Canada, Buddy Bricker (17.5 in cbass) and Ronnie Marquette Of York, PA.
Captain Chris Mizurak of the Angler also reported some decent flounder and sea bass fishing on today's trip.
Captain Chase Eberle of Chasin' Tides Charters had a good night of catch and release shark fishing last night where he put his anglers on sand bar and sand tiger sharks to over 6′.
It was another good day of shooting for Captain Marc Spagnola of Dusk to Dawn Bowfishing as he put his guys on some nice cow nosed and southern ray action.