Posted on August 15th, 2017
If one of the flounder in tonight's feature image looks strange…..it should.  But do you know which one?  I got an email from Captain Drew Zerbe of the Tortuga this afternoon with this photo and I immediately noticed something was off.  I've caught a lot of flounder in Ocean City.  I've seen flounder that had been bitten by something and the tail was completely gone, I've seen flounder with white tails on both sides and I've seen flounder with brown on both sides.  I've even seen one flounder that was completely brown on both sides with spots and everything.  I've never seen this before.  I even reached out to my Ocean City fishing guru Dale Timmons and he even said in 30 years of reporting on fishing in Ocean City he's only seen it once or twice.
If you guessed that the flounder on the left is facing the wrong direction then you're right.  When a flounder hatches it actually has one eye on each side of the head like most other fish and as the fish moves from it's larval stage into it's juvenile stage one eye will migrate to the other side of the head so that both eyes end up on the same side of the head.  The summer flounder that we catch in Ocean City is a left eyed flounder, meaning that the eyes and coloration are on the left side of the fish.  When the eyes are above the mouth the fish is facing to the left.  The reason that the flounder that the Tortuga caught and released today is so rare is that it was actually a right eyed summer flounder.  This means that when this particular fish moved from it's larval stage into it's juvenile stage that the eyes actually migrated to the opposite side of the head as most every other flounder in the sea.  I can't tell you why, sometimes it's hard to figure out Mother Nature.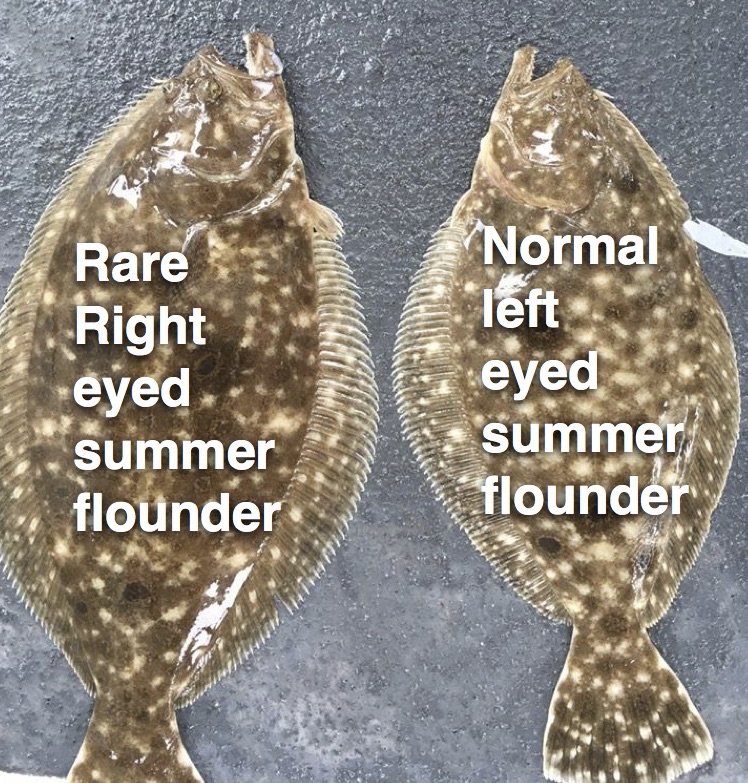 Captain Brad McCabe of Bay Time Charters caught some normal left eyed flounder today.  Karl Bailey and Dave Wilson found keepers of 17″ and 18 1/2″….among 25 throwbacks in dirty water in the west channel with Captain Brad today.
These young ladies had a great day aboard the Pumpin' Hard out of Sunset Marina with the Burt boys.  Both girls caught their first white marlin and added a couple of mahi.
Captain Marc Spagnola of Dusk to Dawn Bowfishing was on the water last night and had a great night of shooting in the south bay.
I got the below email from Captain Monty Hawkins of the Morning Star today so if you're on the ocean keep your eyes peeled.
An amateur weather guy put up two balloons with weather data and cameras.
We found one a while back and got a reward.
This one actually has a tracker but hasn't been found yet.
A white styrofoam cooler with lots of orange tape – worth $100.00 Reward If Found.
Check out our online magazine for all things Fish in OC