Posted on May 15th, 2019
It was a pretty gorgeous day on land today with sunny skies and warm temps, but on the ocean it started off reel "saucy."  The wind laid down for the afternoon making it beautiful and since most party boats were sold out for the opening of MD sea bass season it was "tie it loose" and off to the rip.
Captain John Bunting of the Judith M out of Bahia Marina had a good first day of sea bass fishing.  Captain John put his angler over about 150 sea bass with more than 1/2 of those being keepers in the 14″ to 16″ range with a few larger.  The fish ate a combination of squid and clam baits over natural bottom.
Captain Monty Hawkins of the Morning Star was ready to get out to the awaiting sea bass today…..
Hi Scott, 
Despite saucy conditions this morning, most clients were able to make a fine day of it – four limited out.. 
We also had some who never wet line. It blew 25 to 30 for a while in the morning before dropping out to nothing. Not what was called for, but there it was. Paul Kinsinger Of Harrisburg PA won the pool with a 3.3 lb cbass. Also pictured are Lucy & George Miller of York PA & Tom Lane of Germantown MD.
Cheers 
Captain Chris Mizurak of the Angler reported that the weather was beautiful today after the snotty ride out and fishing was good with a steady pick of nice sea bass throughout the day.
Captain Brian Behe of Buffalo Hunter Guide Service had Mike and Suzanne Taylor of Fenwick Island, DE on board today for a trip to Wachpreague, VA.  Mike and Suzanne used their brand new JPR curly Q rods and Deadly Doubles to land five nice keeper flounder despite some wind and dirty water conditions.
Captain Jason Mumford of Lucky Break Charters was all over the bluefish in the inlet area again today putting his anglers on a bunch of snapper sized fish.  Captain Jason also got a good shot of Bobby Layton and Shelby Zimmer with a nice chopper sized blue.
Big Bird Cropper and Roy Rig engineer Dave were out on the bay this afternoon in between Jerry Springer episodes and had another good day of fishing.  Bird and Dave used his World Famous Roy Rig to land 5 bluefish and 25 rockfish to just under 28″. 🙁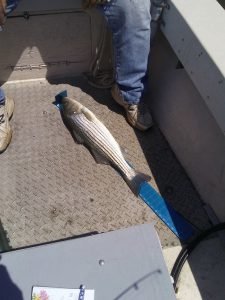 We've picked up Bird's Roy Rig for anyone wanted to buy them out of the area.  You can get them here if you're interested…..
Big Bird's World Famous Roy Rig